!
This post hasn't been updated in over a year. A lot can change in a year including my opinion and the amount of naughty words I use. There's a good chance that there's something in what's written below that someone will find objectionable. That's fine, if I tried to please everybody all of the time then I'd be a Lib Dem (remember them?) and I'm certainly not one of those. The point is, I'm not the kind of person to try and alter history in case I said something in the past that someone can use against me in the future but just remember that the person I was then isn't the person I am now nor the person I'll be in a year's time.
An bunch of god-botherers and navel-gazing, beared, lentil eating, hemp wearing lefty liberal apologists have decided that St George is just too offensive and needs to be reinvented so that he's more inclusive.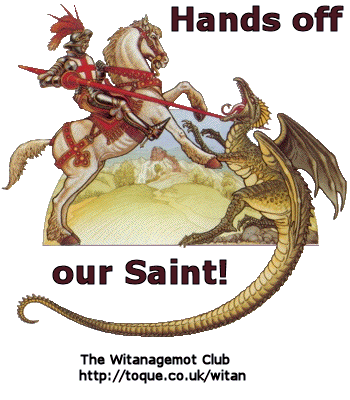 A report called "When The Saints Go Marching Out: Redefining St George For A New Era" says:
"It is time that St George was reclaimed from the dragon, from past associations with racism and the far right, and from images of arrogant flag-waving"
The racism accusation is probably two-fold (it doesn't say).  Firstly, the BRITISH National Party often fly the flag of St George.  The BNP are racist, therefore anyone who has an English flag is – by association – also a racist with a shaved head and a combat jacket.  There aren't any calls to remove the Union Flag – part of their logo – from Buckingham Palace but lefties aren't exactly noted for their logic skills.  Secondly, St George is associated with the Crusades.  Two thousand years ago, muslim invaders occupied the Holy Land putting non-muslims to death and generally making a nuisance of themelves.  Christian Crusaders from across Europe went to the Holy Land to fight the invaders and reclaim the Holy Land.  This is, of course, racist and deeply offensive to muslims who are still suffering from the Crusades 2,000 years on.  Gosh, I'm so ashamed to be white and English.
The report suggests that St Georges Day should be a:
"day of dissent" – celebrating "the pro- democracy Putney Debates, the equality-seeking Levellers, the anti-slavery abolitionists, the women's suffrage movement, conscientious objectors and peacemakers, anti-racism campaigners, human rights activists and those struggling against debt and poverty"
Day of dissent?  Sounds good to me.  Putney Debates?  Let me just check Wikipedia … oh right, some constitutional debates from when Oliver Cromwell overthrew the monarchy and established a fundamentalist Christian dictatorship in England.  Actually, I suppose that's quite relevant to modern-day England.  Levellers?  Weren't they a band in the 70s?  I think perhaps they're referring to the Levellers who were also involved in Cromwell's civil war.  Are the Church planning another revolution perhaps?  Anti-slavery, womens suffrage, conscientious objectors, peacemakers, anti-racism, human rights and global poverty?  What has that got to do with being English?
Richard Littlejohn has written an excellent piece on this – take a look.
Personally, I will be celebrating St Georges Day with a day off work, a BBQ and a pint of Bombadier with a like-minded colleague.  Most of the pubs in Telford have English flags out all year round but some of them have got in English beers and are doing other things on Monday.  The council haven't organised anything of course, they're too busy finding new regional projects to sign up to so they can speed up the abolition of England.