!
This post hasn't been updated in over a year. A lot can change in a year including my opinion and the amount of naughty words I use. There's a good chance that there's something in what's written below that someone will find objectionable. That's fine, if I tried to please everybody all of the time then I'd be a Lib Dem (remember them?) and I'm certainly not one of those. The point is, I'm not the kind of person to try and alter history in case I said something in the past that someone can use against me in the future but just remember that the person I was then isn't the person I am now nor the person I'll be in a year's time.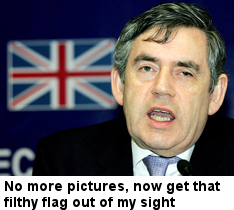 No Mandate Brown, the One Eyed Wonder of Wankistan, has decided not to call an election after all.
After seeing the latest batch of opinion polls showing that support for the Conswervatives was increasing whilst support for Liebour was decreasing, he has decided that he "wants a mandate on policy, not on promises".  Or votes for that matter.
God, how I hate that lying, conniving, cheating, unelected, illiberal, disrespectful, cowardly, dictatorial, two-faced turd.
Like I said the other day, the Ignorant Jock shouldn't have any say whatsoever on when an election is called.  An election is an opportunity for the people to give or take away the mandate of the ruling party, not a political tool to be used for the benefit of the party or personal career or the Prime Minister – especially when that Prime Minister has never contested an election as leader of his party and has no right to interfere in domestic policies in England.  The timing of elections should be the responsibility of an independent body – the Electoral Commission would be perfect if it could ever be made impartial – and not the ruling party.  It's an absolute sham.

Technorati Tags: Gordon Brown, Elections, Dictators