!
This post hasn't been updated in over a year. A lot can change in a year including my opinion and the amount of naughty words I use. There's a good chance that there's something in what's written below that someone will find objectionable. That's fine, if I tried to please everybody all of the time then I'd be a Lib Dem (remember them?) and I'm certainly not one of those. The point is, I'm not the kind of person to try and alter history in case I said something in the past that someone can use against me in the future but just remember that the person I was then isn't the person I am now nor the person I'll be in a year's time.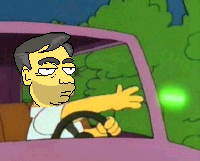 No Mandate Brown will announce today that the British government intends to build nuclear power stations in England.
He won't be making the same announcement about Scotland, of course, because it's a devolved matter and the Scottish Parliament has decided that Gordon Brown's constituents and their fellow countrymen won't be getting nuclear power stations.
Now, I agree with building nuclear power plants.  They produce very little pollution during their operation if you discount the radioactive waste that is left over once they're decommissioned.  Nuclear plants have an excellent safety record, they don't rely on fossil fuels and the electricity they produce is reliable and relatively cheap.  And I'm not a NIMBY either, there has been talk of replacing the Ironbridge B coal-fired power station with a nuclear plant and that's close enough to my house for me to be able to see the plume of smoke it produces round the clock.
However, like I said the other day when the Goblin King announced that health screening was to be increased in England, I don't care whether what he is announcing is a good thing, he has no mandate to do it.
Socialist Unity points out that this isn't a devolved issue in Wales so it would be possible for the British government to build nuclear plants there.  But they won't build them in Wales because the Welsh government doesn't want it and the last thing Liebour wants is to lose more support in Wales where they have already been forced to form a coalition government with the nationalist Plaid Cymru.  Going against the wishes of the Welsh government on such an important issue will seriously damage Liebour and put them in the nightmare position of losing control of both Wales and Scotland, the source of their Westminster majority.

Technorati Tags: England, Scotland, Wales, Nuclear, Liebour, No Mandate, Gordon Brown