!
This post hasn't been updated in over a year. A lot can change in a year including my opinion and the amount of naughty words I use. There's a good chance that there's something in what's written below that someone will find objectionable. That's fine, if I tried to please everybody all of the time then I'd be a Lib Dem (remember them?) and I'm certainly not one of those. The point is, I'm not the kind of person to try and alter history in case I said something in the past that someone can use against me in the future but just remember that the person I was then isn't the person I am now nor the person I'll be in a year's time.
Today is the anniversary of …
The death of Hitler
The RAF bombing 2 airfields at Port Stanley in the Falklands to stop the Argies from using them
The death of Ayrton Senna
The UK's biggest general one day strike (over a million people)
The banning of elections in Cuba
May Day riots in London in 2000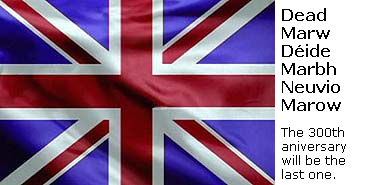 That's from the BBC's list but there is another anniversary which the BBC have missed and which, I suspect, will go un-noticed up and down the country.  Today is the 300th anniversary of the Act of Union between England and Scotland.  Will there be a 301st birthday or will the union be dissolved in the next 12 months?  The SNP are predicted to win the Scottish elections on Thursday and that means a referendum on independence.  A few weeks back the SNP said that it wouldn't hold a referendum for a few years but once they've got a taste of power it won't be long.