!
This post hasn't been updated in over a year. A lot can change in a year including my opinion and the amount of naughty words I use. There's a good chance that there's something in what's written below that someone will find objectionable. That's fine, if I tried to please everybody all of the time then I'd be a Lib Dem (remember them?) and I'm certainly not one of those. The point is, I'm not the kind of person to try and alter history in case I said something in the past that someone can use against me in the future but just remember that the person I was then isn't the person I am now nor the person I'll be in a year's time.
Minutes after receiving an acknowledgement from West Mercia Police for my Freedom of Information request on Common Purpose, someone from West Mercia does a Google search for me and takes a look at this blog.
The guidelines published by the Information Commissioner say that FOI requests should be identity and motive blind so why are West Mercia Police trying to find out who I am before dealing wih my request for information?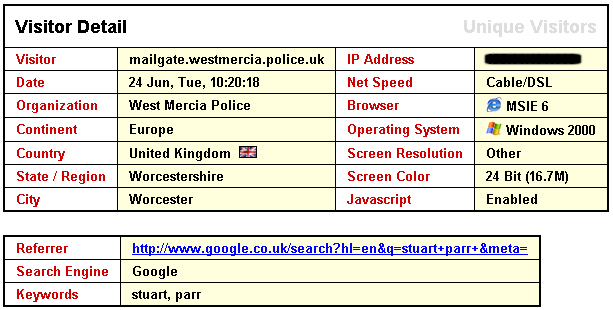 Technorati Tags: West Mercia Police, FOI