!
This post hasn't been updated in over a year. A lot can change in a year including my opinion and the amount of naughty words I use. There's a good chance that there's something in what's written below that someone will find objectionable. That's fine, if I tried to please everybody all of the time then I'd be a Lib Dem (remember them?) and I'm certainly not one of those. The point is, I'm not the kind of person to try and alter history in case I said something in the past that someone can use against me in the future but just remember that the person I was then isn't the person I am now nor the person I'll be in a year's time.
Wimbledon is upon us again – another few weeks of boredom and seemingly endless coverage of some people hitting a ball at each other at 3,000mph.
Andy Murray was in the papers at the weekend telling us how terribly upset he is that people think he's anti-English because his gran lives in Newcastle and it was only a joke when he said he was supporting anyone playing England in the World Cup and please could we not call him a Scottish wanker and support him at Wimbledon.
Haha, very funny.  Twat.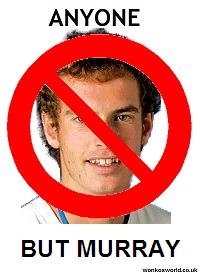 Technorati Tags: Andy Murray, Wimbledon