!
This post hasn't been updated in over a year. A lot can change in a year including my opinion and the amount of naughty words I use. There's a good chance that there's something in what's written below that someone will find objectionable. That's fine, if I tried to please everybody all of the time then I'd be a Lib Dem (remember them?) and I'm certainly not one of those. The point is, I'm not the kind of person to try and alter history in case I said something in the past that someone can use against me in the future but just remember that the person I was then isn't the person I am now nor the person I'll be in a year's time.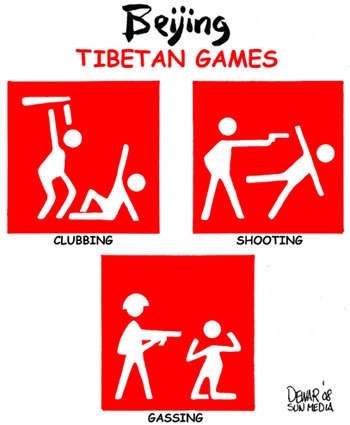 Am I the only one that has absolutely zero interest in the Olympics?
The BBC have devoted BBC1 to covering the games, even the Breakfast programme has been relegated to the News 24 channel.
I might be more interested if there was an English team but I just can't get excited about Team GB, even when I know that the competitors are English.
The only real interest I have in the Beijing Olympics is the fact that they're actually being held in China.  Human rights abuses, a totalitarian dictatorship government, widespread censorship and the continued illegal occupation of Tibet should preclude China from holding the Olympics on the basis that it goes against the aims of the Olympic Charter.

Technorati Tags: Olympics