!
This post hasn't been updated in over a year. A lot can change in a year including my opinion and the amount of naughty words I use. There's a good chance that there's something in what's written below that someone will find objectionable. That's fine, if I tried to please everybody all of the time then I'd be a Lib Dem (remember them?) and I'm certainly not one of those. The point is, I'm not the kind of person to try and alter history in case I said something in the past that someone can use against me in the future but just remember that the person I was then isn't the person I am now nor the person I'll be in a year's time.
Hazel Blears is so far off the moral compass it's fucking unbelievable.
Having been exposed for abusing the expenses system by designating a flat she owned as her second home so she could claim £850 per month in mortgage payments on her expenses and then avoid paying capital gains tax when she sold it for a £45k profit, she has said that she understands "hatred" of the expenses system and that the system is wrong and needs changing.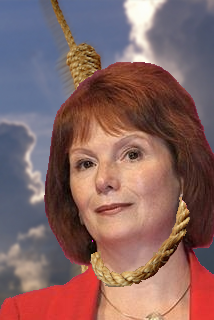 No.  Fucking no, you stupid fucking ginger chipmunk-featured fucking morally bereft fucking hypocrite.  You knew the system was wrong, you knew that what you were doing was wrong and you knew the taxpayer would consider your expenses claim to be outrageous BUT YOU STILL DID IT.  The system didn't make you take advantage of a criminally slack expenses system, you made a conscious choice to abuse the system and to abuse the generosity and trust of the taxpayer.
The system doesn't deserve to be hated, the corrupt MPs who have abused the system deserve to be hated and none more so than the ones like Blears who admit that they have acted in a morally reprehensible way but are trying to deflect attention from their corruption by blaming the system they abused.
Every MP that has abused the system should be fully investigated by the police and prosecuted for obtaining pecuniary advantage and malfeasance in office.  They have obtained money and property by deception – a pecuniary advantage – and have abused the trust of the electorate to such an extent through their deception that they can no longer carry out their duties of an MP effectively – malfeasance in office.
My preferred punishment would be to string the thieving bastards up from the lamposts outside Westminster Palace.
Technorati Tags: Corruption, Hazel Blears