!
This post hasn't been updated in over a year. A lot can change in a year including my opinion and the amount of naughty words I use. There's a good chance that there's something in what's written below that someone will find objectionable. That's fine, if I tried to please everybody all of the time then I'd be a Lib Dem (remember them?) and I'm certainly not one of those. The point is, I'm not the kind of person to try and alter history in case I said something in the past that someone can use against me in the future but just remember that the person I was then isn't the person I am now nor the person I'll be in a year's time.
Wimbledon has started and the BBC are excited about the prospects of British Scottish British Scottish British Scottish Sour Faced Tosser, Andy Murray.
Personally, I couldn't give a flying fuck which round he crashes out in as long as he cries like a baby.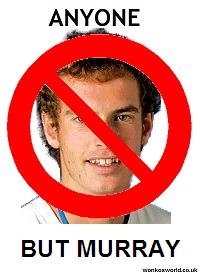 Amusingly, the above image is the first match in a Google image search for "Anyone But Murray".
For followers of the perpetual British/Scottish schizophrenia of Andy "Anyone but England" Murray, the Andymurrayometer is worth a visit for a bit of a giggle.
Technorati Tags: Anyone but Murray, Andy Murray, Wimbledon, BBC