Wimbledon has started and the BBC are excited about the prospects of British Scottish British Scottish British Scottish Sour Faced Tosser, Andy Murray.
Personally, I couldn't give a flying fuck which round he crashes out in as long as he cries like a baby.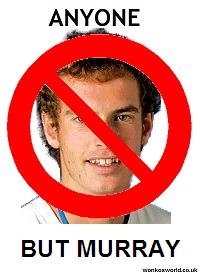 Amusingly, the above image is the first match in a Google image search for "Anyone But Murray".
For followers of the perpetual British/Scottish schizophrenia of Andy "Anyone but England" Murray, the Andymurrayometer is worth a visit for a bit of a giggle.
Technorati Tags: Anyone but Murray, Andy Murray, Wimbledon, BBC