Wimbledon is upon us again – another few weeks of boredom and seemingly endless coverage of some people hitting a ball at each other at 3,000mph.
Andy Murray was in the papers at the weekend telling us how terribly upset he is that people think he's anti-English because his gran lives in Newcastle and it was only a joke when he said he was supporting anyone playing England in the World Cup and please could we not call him a Scottish wanker and support him at Wimbledon.
Haha, very funny.  Twat.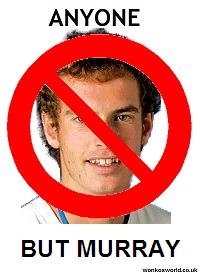 Technorati Tags: Andy Murray, Wimbledon