Archive for October 2012
I really didn't want to do this but thanks to the dimwit English Democrats political brain, Steve Uncles, claiming on one of his Twitter accounts that I have been kicked out of the Campaign for an English Parliament (CEP) I now have to explain why I left.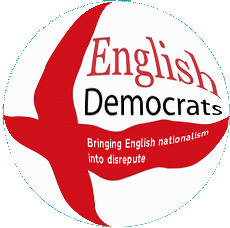 Before the current Chairman, Eddie Bone, became the Chairman we had some run-ins over some pretty shocking decisions which he somehow managed to convince the National Council were good ideas.  The most notable one was the switch to monthly Direct Debits for collecting membership subscriptions which was agreed despite it being explained by the Treasurer at the meeting that the CEP would have needed something like 100,000 members to make it break even.  This was really the start of a sustained period of financial mismanagement that continues to this day by both the Chairman and the NC.
A clique quickly formed around Eddie and NC meetings rapidly turned into rubber stamping exercises for decisions already made by this inner circle of NC members.  Dissent was frowned upon and half the time at NC meetings were consumed with vigorous sales pitches for what had already been agreed outside the meetings.
Eddie set up the Workers of England union and took on an expensive office and then tried to convince the NC that the CEP should move in to it and share the costs.  The cost was unsustainable – the CEP was already losing money and members year on year and thankfully sense prevailed for the time I was on the NC despite repeated attempts to get the CEP moved into the Workers of England office.
Eddie became Chairman in a two horse race between him and myself.  I didn't want to be Chairman but nobody else put their name forward and a number of NC members (the ones outside the clique of course) were so concerned at the prospect of Eddie Bone as Chairman that they asked me to put my name forward.  David Wildgoose asked me to support him as Vice Chairman if Eddie was elected as Chairman so that he could try and moderate him which I did.
Following Eddie's election as Chairman (one member of the clique was given a number of proxy votes from NC members who turned up to meetings so infrequently I'd never even met them) the clique became more important and no decisions were made at the NC.  Any disagreement with what had already been decided before the meeting was met with quite strong defence and it was clear that differing opinions were not welcome.  The Chairman's job quickly (and unofficially) became an Executive Chairman's job and unilateral decisions were made not just about the running of the campaign but about spending money.  This is against the CEP's constitution and MOA but pointing this out got myself and others nowhere, just further ostracisation.
During his reign as Chairman, the CEP's reserves of about £10k have been spent and with pretty much nothing to show for it.  The "battlebus" (a flat bed truck with an apex on the back) has been used infrequently and presumably sits on the Chairman's drive.  As far as I'm aware it is still legally owned by the Chairman despite the CEP being a limited company and able to own property and the Chairman of the English Democrats, Robin Tilbrook, made a considerable donation towards its cost in exchange for his party being able to use it as well.
On that note, I raised concerns about the English Democrats using the "battlebus" and pointed out that it was only a matter of time until a journalist noticed they were using the same truck and linked the two together and by extension, linked the CEP with Steve Uncles, the BNP and the England First Party as well as the English Democrats.  This was dismissed of course and recently the CEP was mentioned for the first time on Hope Not Hate's website because of its links to Steve Uncles, the English Democrats and the BNP (England First Party have all but disappeared).
At some point during all this I gave up going to NC meetings and gave notice that I would resign from the NC and would reduce my patron membership of £100 per year to the standard membership of £20 per year until I saw the CEP spending money properly.  My resignation wasn't accepted as the NC decided it could scupper the talks that were ongoing with UKIP over an English Parliament policy and as an English Parliament is something immensely important to me, I allowed myself to remain on the NC on paper but didn't attend any meetings or comment on any NC business unless it was something that was of dubious legality.  There was no sign of improvement in the way they were spending money so I cancelled my standing order and allowed my membership to lapse.  This should have resulted in my automatic removal from the NC but they decided not to remove me from the NC because of the work they were doing with UKIP.  I again allowed this to happen because the cause is more important to me than the Campaign.
However, when the Treasurer reported that the CEP had spent so much money there was only enough left to keep the Campaign ticking over and doing no campaigning for 18 months I took the decision to assert my resignation and insist on having myself removed from the list of company directors.  I had no involvement in the CEP, I had ceased to be a member and I abstained from attending and voting at NC meetings and was certainly not going to be listed as a director of an insolvent company.
After I had successfully been pushed out of the CEP attention was turned to Mike Knowles who was constructively (and unconstitutionally in my opinion) dismissed from the NC.  The purge complete, the NC has descended into secrecy and members are not allowed to know what decisions are made and what their money is spent on.  Campaigning is virtually non-existent and the Chairman is the only public representative of the CEP.  The money has almost all gone – spent on admin, subsidising the Workers of England union office and paying expenses for the Chairman and his friends who have been employed to do work that never seems to be done.
What has the CEP achieved for all this money they have spent?  The Chairman has contributed to a couple of newspapers and on each occasion has displayed a serious lack of understanding of the constitution and of devolution which is slightly worrying for a campaign group that exists solely to advance the cause of constitutional change to bring about devolution for England.  The judgement of the NC and the Chairman has been terrible in terms of how the Campaign is run, how the membership's money is spent and in its associations with the English Democrats.  The CEP has turned from a campaign into a think tank but without the vital ingredient of any think tank which is a panel of experts in their field – all those people have left.
So that's the reason I left and the reason I've not publicised all this until forced to by Steve Uncles?  Twofold really: firstly because I have no desire to damage the CEP out of spite and secondly because if the CEP goes into administration before we get an English Parliament or an alternative civic nationalist campaign is set up to replace it, the English Democrats will end up as the only organised voice of English nationalism and that really doesn't bear thinking about.  As I said at the start of this post, I really didn't want to do this but Uncles left me with no choice.
Only days after putting an Endomondo widget on my sidebar to show everyone what a good boy I've been doing regular exercise I've had to stop after mysteriously spraining my ankle.
I literally have no idea how I did it as the only thing that happened to cause such an injury was stumbling in a hole on a footpath over a week ago and it didn't start swelling up until Sunday afternoon.  I've damaged the tendon or ligament (I forget which it is) that stops you from stepping over on your foot which means that as well as being swollen enough that you can't see my ankle bone, the bones grinding and clicking and being a bit painful, it's also wobbly which is making walking a bit of a challenge.
I'm going to try swimming in the morning, it might not go well.
David Cameron has handed over power to the Scottish Government to hold an independence referendum in 2014 as long as the question has only two options: Yes or No.
This is great news for a couple of reasons.  Firstly, it means that the Scots will finally get a vote on their independence and with a bit of luck will vote for it and secondly, the absence of a "renegotiate" option means that Alex Salmond won't have a mandate to extract even more out of the British government at England's expense.  It should be noted, though, that the British government have already conceded most of Alex Salmond's demands on what has been called "devolution max".
The Scots won't vote for independence because they can't survive without English taxes which is a real shame because there's nothing worse than a loveless marriage and staying together for the kids never really works does it?
Ed Milibeast used the phrase "one nation" a lot in his Labour Party conference speech and our MP here in Telford, David "Scum Sucking Tories" Wright, clarified on BBC Radio Shropshire that he was talking about one nation socially, economically and geographically.  He made it pretty clear that there is only room for one nation as far as Labour is concerned (even though it's not a nation) – Britain.
It's odd to hear such Big Britisher sentiments coming from the party responsible for introducing devolution in Scotland, Wales and London and a party so single-mindedly committed to the abolition of the nation state.  It's also more than a little inconsistent with their support for the balkanisation of England which has led to them proposing a "Parliament of the North" this year and even launching a fake think tank to promote it.
At least they're no longer trying to cover up their opposition to democracy or ambition of destroying our nations.