Once again I have to defend myself against the de facto leader of the English Democrats, Steve Uncles.
Some time ago Uncles wrote a letter to Sinn Féin offering to change English Democrats policy (that's how policies are made in the EDP – Steve Uncles comes up with some batshit idea and hey presto it's policy) to one of kicking Northern Ireland out of the UK and forcing them into unification with the Republic of Ireland in return for a bribe from Sinn Féin for his bankrupt party.
Naturally, Sinn Féin ignored him as he and his party are both non-entities and even convicted terrorists have some standards when it comes to dealing with lowlifes.
But as part of his fascist campaign against Northern Ireland, Uncles started a Facebook page called "Campaign to get Northern Ireland out of the UK".  I wanted to make sure everyone who came across it knew who was behind the page so I posted the following comment on the wall of the page:
This page is the work of Steve Uncles of the English Democrats who wrote to Sinn Féin offering to adopt a policy of uniting NI with the Republic of Ireland in return for them bankrolling his party. There's not a lot Uncles won't do to get his £26,241 back from the party which isn't surprising given that they are so heavily in debt and still got beaten by the Monster Raving Loony Party not long ago.

Steve Uncles doesn't speak for England, most English people wouldn't force a nation of 2m people to join another country against their will in return for a bribe from the political wing of a terrorist organisation.
As users of Facebook will know, before you can post a comment on the wall of a page you have to "like" it.  Which I did for as long as it took me to post the comment and then I immediately clicked the "unlike" link and removed myself from the page, leaving the comment exposing this terrorist-appeasing lowlife on the wall.
Predictably, the comment was soon taken off the wall of the Facebook page by Uncles but in order to try and damage my reputation, he has taken a screenshot of his status update showing me "liking" the page so I could post the comment and posted it on his English Passport blog without telling people that I only did it to post the above comment on the wall which he has deleted and telling them that I support his fascist campaign.
And of course he has mentioned the fact that I am in UKIP (which he tried to defect to this year but was knocked back) and the Campaign for an English Parliament (which he got thrown out of this year for bringing the campaign into disrepute) to try and damage their reputations with his lies as well.
Here is the comment I posted in response to Uncles' libel on his English Passport blog which he still hasn't approved (and probably never will because he's a dishonest little turd):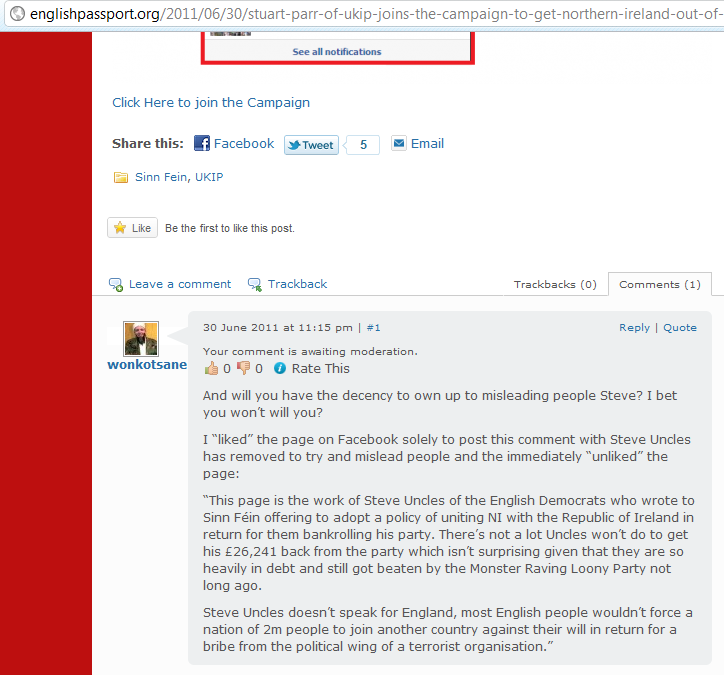 And here is a screenshot of the wall of the Victims of Steve Uncles page on Facebook posted straight after I commented on Uncles' page: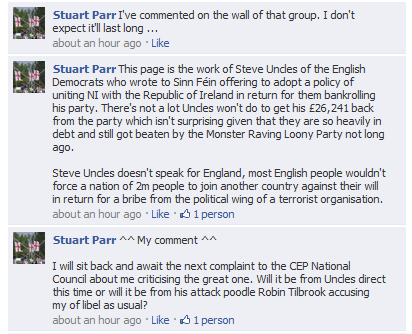 So will Steve Uncles, the lying, fascist, terrorist-appeasing lowlife failure be man enough to admit that he has deliberately mislead people and libelled me?  A complaint has been made to WordPress about the libel Steve Uncles has made in contravention of their Terms of Service and an email will be sent off to his attack poodle, the ineffectual "technically" leader of the English Democrats (and practising solicitor) Robin Tilbrook who I assume is Uncles' personal solicitor as he is the one who makes all the threats and complaints against anyone who criticises the terrorist-appeaser nowadays.
Update:
Not content with libelling me, the terrorist sympathiser is now impersonating me rather than publishing my comments exposing his deception.  This is the best thing about terrorist sympathising scum like Steve Uncles – give them enough rope and they'll hang themselves.  I think you're going to need a better solicitor than Robin for this one Steve.  He couldn't even manage to win a racial discrimination case for his own party when the bank admitted to racially discriminating against you, I don't fancy his chances of getting you off this one!