The Scots go to the polls tomorrow to vote on their independence and the polls are all too close to call it either way.
There's just 2-4% between the yes and no camp in the polls with a 3% margin of error and 4-8% undecided. It's going to come down to which side the don't knows plump for tomorrow and which side is most motivated to go out and vote on the day. A distrust of the postal voting system rife with fraud will probably result in more yes voters preferring to vote in person tomorrow and physically casting your ballot in a polling station feels more real, like you're actually taking part and not going through the motions. The yes camp have probably got the edge on the no camp when it comes to motivation.
Many promises have been made by Cameron, Clegg and Miliband to give more power and money to Scotland, including agreeing to Gordon Brown's three demands for more money and influence for Scotland in the event of a no vote. The problem is, none of them have the power to deliver those promises. They can make personal pledges and even declare them to be party policy but there's a general election in less than 8 months and MPs representing English constituencies are getting a little uneasy about how far the English can be pushed before it starts inflicting damage on them at the ballot box. One Tory MP has promised a "bloodbath" when the new powers Cameron has promised for Scotland are up for debate in the British parliament. More people than ever are demanding an English Parliament and expressing their disgust at the unfair treatment of England. There are votes in supporting equality for England and MPs in England will be doing their sums and wondering if they can afford not to support an English Parliament.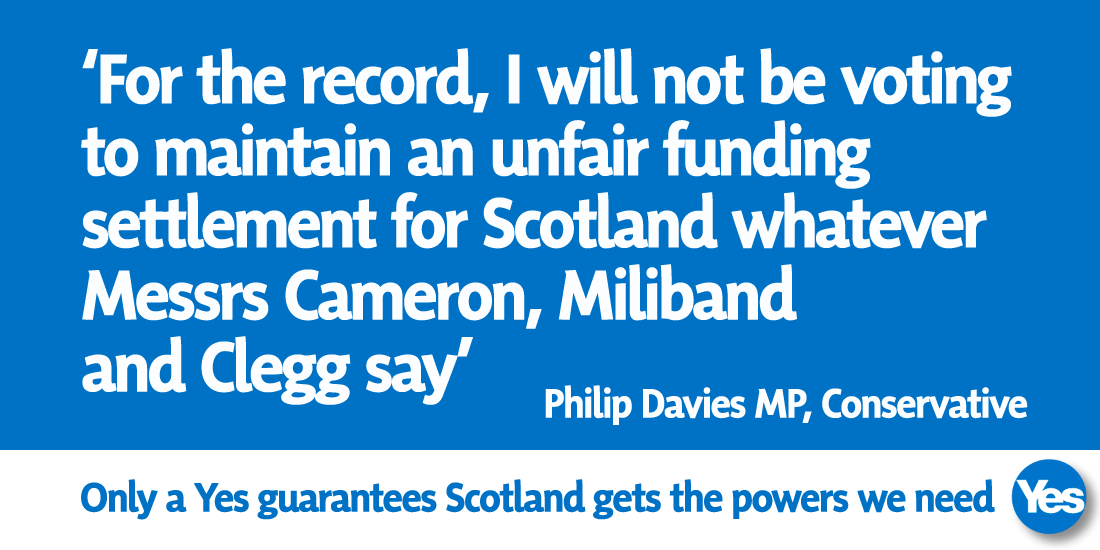 I would like to implore our neighbours north of the border to do the right thing and vote for independence. If you vote no you won't get another chance for a couple of decades at least. When you find out that the promises that have been made are empty and you won't be allowed to have your cake and eat it if you vote to stay in the union it'll be too late to do anything about it. There's no point staying in a loveless marriage for the sake of the children, it's best to part on good terms before it turns completely sour. This is the only chance you're going to get of getting independence, don't fuck it up.