Tag Archive for Terry Pratchett
A year ago today …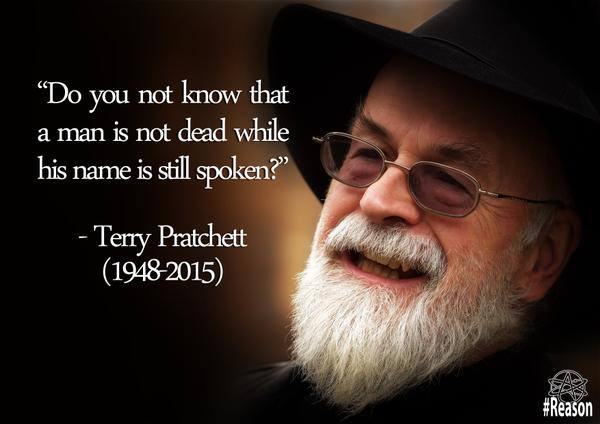 I'm no stranger to being censored on the Guardian's ironically named Comment Is Free but usually it's for such heretical thinking as disagreeing with something they say or correcting one of their many, many mistakes, not for criticising an arts critic.
Guardian arts critic, Jonathan Jones, has written what I will generously call a worthless piece of substandard literary diarrhoea describing Sir Terry Pratchett as a "mediocre" writer publishing "ordinary potboilers". He bases this opinion on never having read any of Terry Pratchett's books and never intending to read any of them even if he lived to be a million years old.
Let's just examine the facts shall we? Prior to the release of his final book, Shepherds Crown, this week Terry Pratchett had sold over 85m books in 37 different languages. He was given the OBE for services to literature in 1998 and knighted in 2009 for the same. He was the number one best selling fantasy/sci fi writer in the 1990s, won a huge list of awards, was awarded 10 honorary doctorates, was made an adjunct professor of Trinity College Dublin and big budget films were made out of four of his Discworld novels. The plays of his books have been performed the world over and a large number of his books have been recorded for radio and broadcast around the world. The books have spawned calendars, diaries, figurines, board games, computer games and other merchandise. Sir Terry Pratchett had a net worth of £42m according to the 2012 Sunday Times Rich List. He has been credited with inadvertently inventing the genre of comic fantasy. When he died, people around the world mourned his death and inspired by a quote from one of his books, Going Postal – "A man is not dead while his name is still spoken" – thousands of websites and internet servers gained a "GNU Terry Pratchett" header in the ultimate geek tribute. Even the Guardian website did it.
Jonathan Jones has written two books. You won't have heard of them and you won't have read them. He's an art critic for the morally and financially bankrupt Guardian newspaper. He presented an TV series on art for BBC2 and although he has presented two prestigious arts awards, he has never won any award himself.
Jones isn't even a has-been, he's a never-was. He's a literary snob exploiting the release of the last ever Discworld novel to gain some notoriety. He says that he's never read a Pratchett book and that they're so far down his list of books to read that he "would have to live a million years before getting round to them". He says that he once flicked through a Discworld book in a bookshop "but his prose seemed very ordinary". Ordinary!
Because he's never read the Discworld novels he hasn't watched the characters evolve over three or four decades until you know them so well that reading the next book is like catching up with old friends. He hasn't experienced the hairs on the back of his neck prickling at spotting a strand of continuity in the latest Discworld novel that goes back 30 years or the pleasure in reading a book for the tenth time and still spotting something that you didn't notice the first nine times. He can't empathise with Commander Vimes' struggle to reconcile his working class, republican man on the street background with marrying into the aristocracy and becoming a Duke or Granny Weatherwax's constant battle to contain the "black" in her, knowing that if she stops fighting it a lot of people will get hurt (or have their heads messed with so they believe they're frogs in a human body which is a lot worse then being turned into an actual frog). He won't know that that Sir Terry (or Pterry as he's known to fans) tackled such complex subjects as poverty, equality, bigotry and religious extremism whilst making people laugh. If that isn't -ing genius then I don't know what is.
I picked up my copy of the Shepherds Crown on Saturday (well, two copies actually – one to read and a slipcase edition to keep) but I haven't started it yet. I'm reading another book at the moment that my wife ordered me to read and I don't like leaving a book half read. I'm sure Pterry would have understood. I'm in no hurry to get through the Shepherds Crown because it means I'm at the end of the Discworld series. Once I've read it, the Discworld will be frozen in time and that saddens me. Throughout all the trials and tribulations of trying to survive as a hormonal teenager, through the traumatic loss of close family members, meeting my wife and having a family, through depression and dark times and the best days of my life Terry Pratchett has been there for me, providing a means of escape from reality and even a moral compass at times. We could all benefit from being a bit more Terry. For me he was the greatest author that humanity has produced and he will be without equal, at least in my lifetime. And Jonathan Jones? How many people he's never even met will still be mourning his passing 6 months after he's gone?
If you are thinking of commenting on Jonathan Jones' article then just these three words will suffice …
GNU Terry Pratchett
Gone but not forgotten …
I was absolutely gutted today to hear the news that Terry Pratchett had died. I turned to Facebook to share grief with the world (as you do) and sat staring at my phone for half an hour. How do you distil your feelings about the death of the author you've read almost continuously for the past 25 years into a Facebook status? I've lived inside this man's head for the majority of my life and it feels like losing a member of the family.
I started reading Discworld books as a young teen on the recommendation of my local librarian. He wasn't an orangutan and he didn't have a beard or pointy hat so he probably wasn't a wizard. He was a great librarian though because he managed to track down every Terry Pratchett book in the county one by one and get them sent to our little library so I could devour them.
My collection of Terry Pratchett books is … comprehensive … and I read them all the time. My wife keeps telling me I should read something else and I do read other books from time to time but I go straight back to my Terry Pratchett books when I'm finished. Some of these books I've been reading for 25 years and I still find something new every time I read them. The continuity is amazing for 40 books written over 3 decades with characters that might have made only a cameo appearance in the first couple of books popping up 30 books later.
I was fortunate enough to accidentally (no, really) rent a holiday cottage in the next village to Terry's house a couple of years ago. The housekeeper told me which pub he drank in and I thought about going a few times but I decided against it, figuring that his local is probably the last public place on earth he can go without being bothered by fans. My kids wanted to walk up the lane to his house and tell him how much of a fan I was but I pointed out that that's stalking. He probably wouldn't have minded but I felt like he'd earned what little privacy he had. I'm one of what I imagine to be a fairly small number of people who not only know where the Chalk is but to have seen the corner of Discworld that Tiffany Aching inhabits. The reason the Chalk feels so real in the stories is because it absolutely is – it's what he saw when he looked out of his window.
Pterry's genius has earned him immortality but a world with no new Terry Pratchett books is just too much to contemplate at the moment. Terry Pratchett and the Discworld have been a big part of my life for so long. No more books to look forward to. No more harassing the staff at Waterstones for pre-order dates when I know a book is due out soon. We'll never know whether it's Carrot or Nobby, what happens when a werewolf and a human make a baby, what really happened to Esk or where little Sam's cow is. This makes me sad even though I know we would never have found out anyway because he didn't know himself. He could have tied up all these loose ends with a few words but I think he liked to keep himself in suspense as much as his readers.
Terry had been suffering from a rare form of Alzheimer's for the last few years which he referred to as his "embuggerance". He died at home, surrounded by his family in a bed covered in cats. He went before the disease took his mind which is a small consolation. His death was announced on the Twitter account he shared with his assistant, Rob.
At last, Sir Terry, we must walk together.
Terry took Death's arm and followed him through the doors and on to the black desert under the endless night.
The End.
Euthanasia and mercy killings are back in the news again, largely thanks to my favourite author, Terry Pratchett.
Terry Pratchett has a rare form of Alzheimers and wants to shuffle off the mortal coil on his own terms, in a chair in his garden listening to music taking an overdose of painkillers with alcohol.  And why not?
He said he detests the idea that the government can choose whether you live or die but accepts that they have a duty to protect vulnerable people and so he proposes a tribunal that will decide on whether a person can choose to die or not.
My uncle died a few years ago after cruelly being kept alive for about a decade.  He had Huntington's which is superficially similar to alzheimers and parkinsons but it doesn't cause dementia, it just renders the body useless.  By the time my uncle died he couldn't speak, couldn't move, couldn't eat, couldn't drink, couldn't control his bladder or bowels. He was kept alive for years in this state – his body didn't work but his mind did.  He must have gone insane, there's no way the human mind could cope.
If you kept an animal alive in that state you would probably be prosecuted by the RSPCA for animal cruelty so why is it not considered cruelty to do it to a human?
People should be allowed to make living wills while they are still of sound mind setting out the exact circumstances in which they would like to be put out of their misery.  The law needs to be changed to allow people to control their own ultimate destiny and to allow friends and relatives to help them do so.  The euthanasia tribunal idea is a good one and it should be coupled with a legal definition of quality of life, making it unequivocally clear when it is kinder to put someone down, to use the veterinary term.
My uncle shouldn't have been kept alive for all those years with no quality of life and I would hope that someone would do the honourable thing and bump me off if ever I was in a similar position.
p.s. In case anyone is wondering, my dad didn't get Huntingtons and it can't skip a generation so I can't get it.