!
This post hasn't been updated in over a year. A lot can change in a year including my opinion and the amount of naughty words I use. There's a good chance that there's something in what's written below that someone will find objectionable. That's fine, if I tried to please everybody all of the time then I'd be a Lib Dem (remember them?) and I'm certainly not one of those. The point is, I'm not the kind of person to try and alter history in case I said something in the past that someone can use against me in the future but just remember that the person I was then isn't the person I am now nor the person I'll be in a year's time.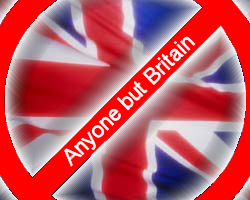 The Great Britain rugby team beat New Zealand today.
The level of interest in the British team is so low that I didn't even know it was happening or had taken place until it was on the news and it only made the news because the winning try was so farcical.
I wonder how much having a British team costs the taxpayer?  We already have an English team with a massive following.  The British team, by contrast, is largely unknown and of very little interest to the man on the street (or in front of the TV).
I will have to keep an eye out for any future matches – especially if they're televised – so I can support the opposition.

Technorati Tags: Rugby, Britain, New Zealand