!
This post hasn't been updated in over a year. A lot can change in a year including my opinion and the amount of naughty words I use. There's a good chance that there's something in what's written below that someone will find objectionable. That's fine, if I tried to please everybody all of the time then I'd be a Lib Dem (remember them?) and I'm certainly not one of those. The point is, I'm not the kind of person to try and alter history in case I said something in the past that someone can use against me in the future but just remember that the person I was then isn't the person I am now nor the person I'll be in a year's time.
When the Israeli Defence Force (IDF) invaded Gaza, there were countless reports of human rights abuses and what could only be described as cold-blooded murder perpetrated by the IDF.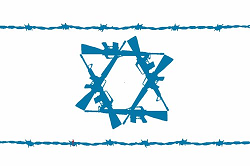 Of course, the appeasers defended Israeli terrorism as they always do, claiming that Israel was acting in self-defence and that the Palestinians were lying about the attrocities carried out by the IDF.  Regular readers of this blog will no doubt recall the many comments from appeasers (mostly Americans and Tories) trying to defend Israeli terrorism.  But now we have it from the horse mouth that the IDF murdered Palestinian civillians and committed acts of terrorism.
An Israeli military college has published Israeli soldiers' accounts of the invasion in which they describe the murder of civillians and how "the climate in general [was that] lives of Palestinians are much, much less important than the lives of our soldiers".  Soldiers also said that Rabbi's gave out pamphlets talking about the invasion in religious terms, giving them the feeling that it was a religious war.
The final Israeli death count came to 13, three of which were civillians and 2 were soldiers that blew themselves up loading their gun.  The Palestinian death count was about 1,300 of which 440 were children and 110 were women.
So, Israeli soldiers are admitting to murder and terrorism.  How are the appeasers going to spin this in Israel's favour?