No Mandate Brown's choice of Sir (soon to be Lord) Alan Sugar for his cabinet of all the talentless is interesting when you read the Telegraph's brief bio on him …
While Sir Alan spends the majority of his time on The Apprentice, he has not completely severed his ties with the business community, still chairing a computer company, Viglen, in which he is a major shareholder.

Just a month ago, the company won a £30 million contract to supply Government departments, such as the NHS, with 70,000 computers.
Interesting.  But there's no conflict of interests of course, Sir Alan Sugar says so and you can trust him because he's an honest and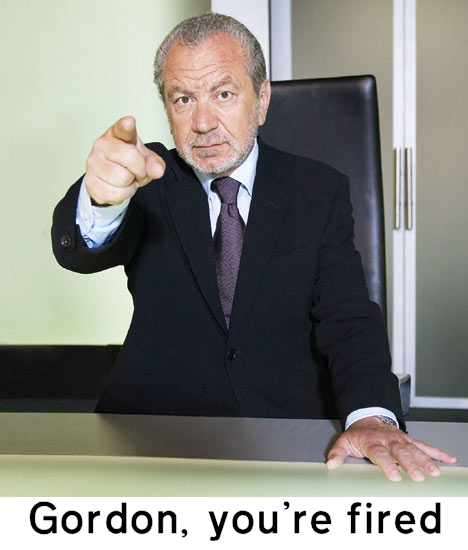 successful businessman.
At its peak Amstrad, which made hi-fis, car radios and helped pioneer home computers in Britain, was worth £1.2 billion

[...]

In 2007 he sold the company for £125 million to broadcaster BSkyB, a 10th of its value during the boom years.
So, he took a £1.2bn company, turned it into a £125m company and now he's going to make policy on business and enterprise?  I suppose it's no worse than No Mandate Brown taking a booming economy and turning it into a national debt roughly equal to 150% of GDP.

Technorati Tags: Cabinet Reshuffle, Alan Sugar