!
This post hasn't been updated in over a year. A lot can change in a year including my opinion and the amount of naughty words I use. There's a good chance that there's something in what's written below that someone will find objectionable. That's fine, if I tried to please everybody all of the time then I'd be a Lib Dem (remember them?) and I'm certainly not one of those. The point is, I'm not the kind of person to try and alter history in case I said something in the past that someone can use against me in the future but just remember that the person I was then isn't the person I am now nor the person I'll be in a year's time.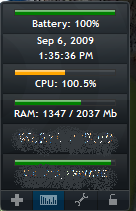 … Microsoft Percentages!
I'm sure every Windows user has experienced the curious phenomenon of "Microsoft Time" which uses the same units as normal time – hours, minutes, seconds – but in an entirely random way so you can never know whether "15 seconds" to copy a file in Microsoft time means 15 seconds, 5 minutes or 2 seconds of normal time.  It all adds to that unique Windows user experience and I'm sure we wouldn't have it any other way.
But is it really necessary to invent "Microsoft Percentages" to randomly gauge the performance of your processor?  Is my processor really running at 100.5% utilisation?  I suspect not.  And why is the progress bar at 50%?  Does Windows expect the processor to ramp up to 200% utilisation at some point?