!
This post hasn't been updated in over a year. A lot can change in a year including my opinion and the amount of naughty words I use. There's a good chance that there's something in what's written below that someone will find objectionable. That's fine, if I tried to please everybody all of the time then I'd be a Lib Dem (remember them?) and I'm certainly not one of those. The point is, I'm not the kind of person to try and alter history in case I said something in the past that someone can use against me in the future but just remember that the person I was then isn't the person I am now nor the person I'll be in a year's time.
Gordon McBrown, the unelected Scottish British Prime Minister, has shown his commitment to inflicting global communism on the world's population by using a meeting of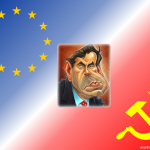 the G20 in St Andrews to call for a global "social contract" for banks and "just distribution of risks and rewards".  He's also suggested a global tax on bank transactions to pay for a global fund to bail out (nationalise) banks.
The British Bankers Association says that the transaction tax is a bad idea.  A spokesman for the communist charity, Oxfam, which receives millions of pounds of funding from the British government, says it's "a major step towards clearing up the mess caused by their greed".
Communism has been tried in many forms over the years and has resulted in economic devastation, starvation, war and millions of deaths.  Communism is evil and El Gordo, Obama the Marxist and the EUSSR must not be allowed to inflict it on us.