!
This post hasn't been updated in over a year. A lot can change in a year including my opinion and the amount of naughty words I use. There's a good chance that there's something in what's written below that someone will find objectionable. That's fine, if I tried to please everybody all of the time then I'd be a Lib Dem (remember them?) and I'm certainly not one of those. The point is, I'm not the kind of person to try and alter history in case I said something in the past that someone can use against me in the future but just remember that the person I was then isn't the person I am now nor the person I'll be in a year's time.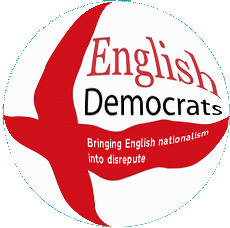 Eddy Butler, the former National Front, former BNP, former Freedom Party, former BNP a couple more times, former BNP national elections co-ordinator, has joined the English Democrats.
The announcement, which was the EDP's worst kept secret since his mate Richard Barnbrook joined in January, will be a bitter blow to the handful of party activists that haven't yet joined UKIP who had hoped to stop the BNP takeover of the party.
UKIP recently announced a revised devolution policy that would see the creation of a federal UK with devolved parliaments for all four home nations.  The final touches are being put to the full devolution policy paper before it goes to the membership for ratification.  UKIP is the only non-racist, mainstream democratic party advocating the creation of a federal UK with equality for all four home nations.
English Democrats: not left, not right, just racist.