!
This post hasn't been updated in over a year. A lot can change in a year including my opinion and the amount of naughty words I use. There's a good chance that there's something in what's written below that someone will find objectionable. That's fine, if I tried to please everybody all of the time then I'd be a Lib Dem (remember them?) and I'm certainly not one of those. The point is, I'm not the kind of person to try and alter history in case I said something in the past that someone can use against me in the future but just remember that the person I was then isn't the person I am now nor the person I'll be in a year's time.
You'd have thought the de-facto leader of a failing political party crippled with debt and haemorrhaging members would have better things to do with his time than Google my name every day to see what I've been doing and researching my past but apparently not.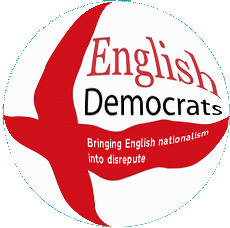 Steve Uncles' latest "exposé" on me is the startling revelation that I used to vote Lib Dem, once supported the English Democrats and didn't support UKIP.
I'm quite open about my political past – it's all over the internet and I've never tried to cover it up.  I voted Lib Dem when I was younger because I didn't support Labour or the Tories.  I didn't really know anything about the Lib Dems, I just voted for them because they weren't one of the other two.  This is where the Lib Dems' vote mainly comes from – the "None of the Above" vote.  In 1997 I voted Labour because Tony Blair seemed to me to be a nice enough bloke and because I wanted to make sure the Tories lost the election.  When I was a kid my parents did quite badly out of the Thatcher years so my view of the Tories was influenced by their loathing of Thatcher so I decided (like most of the country) that it was time for a change.
I'm a relatively recent convert to euroscepticism as it happens.  In 2005 when I wrote the blog post the racist-loving terrorist-appeaser has quoted (yes, he's that desperate to dig up some dirt he's gone back 7 years … and still not found any) I was marginally pro-EU.  I thought a single currency was a good idea (some of the arguments for it are still valid such as saving companies from currency charges) and I thought that on balance the EU was a good thing for the country.
Just like supporting the English Democrats, my support of the EU was a product of the naivety of youth and a lack of real information about what I was supporting.  Over time, I came to realise that the EU was an affront to democracy, an undemocratic, corrupt organisation hell-bent on destroying my country.  I realised that voting for someone you don't want to get rid of someone else you don't want is a waste of a vote and only ends up with you getting someone you don't want.  Over time I also came to realise that the English Democrats were not the party for me and that Steve Uncles in particular was not somebody I wanted to be associated with.  When I turned down his offer of setting up a branch of the English Democrats in Telford, help with elections and funding many years ago I knew I had made the right decision – I instantly became an enemy of England and this barely-sentient knuckledragger has made it his mission to harass me ever since.
Even when I first started supporting UKIP I said that I wouldn't want a UKIP government, just enough UKIP MPs to set the agenda.  I make no secret of that either, it wouldn't take a genius to go on Google and find places where I've said that on the internet – after all, Steve Uncles can manage to turn up something I said 7 years ago so any creature with opposable thumbs should be able to do it.  Just like I changed my opinion of the EU and the English Democrats, I changed my mind about a UKIP government and I can't imagine a party that would make a better job of running the country.
As for the aforementioned Garry Bushell – he lost that election but he also came to see the English Democrats for what they are and declared his support for UKIP.
I know why fat boy (as he's known to his colleagues) stalks me – it's because I refuse to cave in to his threats, intimidation, libel and harassment.  What I don't understand is what he thinks he will achieve from it.  I don't read the English Pisspot libel factory unless someone tells me that he's obsessing over me again and everyone that reads what he writes just thinks he's a cock and let's be honest, they're not far wide of the mark are they?  He cosies up to BNP racists, tried to do a deal with Sinn Féin terrorists, makes jokes about suicide victims and abuses and threatens anyone who stands up to him.
Still, he does serve a purpose: no matter how bad you think things are, you can always take comfort from the fact that you're not Steve Uncles.