!
This post hasn't been updated in over a year. A lot can change in a year including my opinion and the amount of naughty words I use. There's a good chance that there's something in what's written below that someone will find objectionable. That's fine, if I tried to please everybody all of the time then I'd be a Lib Dem (remember them?) and I'm certainly not one of those. The point is, I'm not the kind of person to try and alter history in case I said something in the past that someone can use against me in the future but just remember that the person I was then isn't the person I am now nor the person I'll be in a year's time.
The Spanish government have caused mayhem by stopping every vehicle crossing the Spanish/Gibraltarian border.  About 10,000 vehicles were stopped, causing 6 hour traffic jams in the town.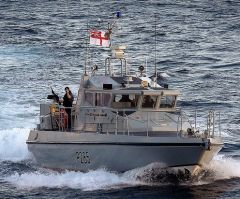 In recent weeks Spanish police have entered Gibraltarian waters and shot at a jetskier, Spanish fishermen have entered Gibraltar waters to try and disrupt work on an artificial reef which will stop them illegally fishing the Bay of Gibraltar and Spanish fighter planes have "buzzed" the Rock.
The British government have complained and told the Spanish not to do it again which means bugger all because the same thing happens every time they do it and they take no notice.  The Royal Navy need to take a nonsense approach to incursions into Gibraltarian waters and fire on any ship that illegally enters the Bay, be it police, military or civilian.  And if the Spanish government wants to cause trouble at the border then let's block it from the Gibraltar side too but selectively so it only inconveniences the Spanish.  Gibraltar buys more from Spain than Spain buys from Gibraltar and Spain is broke whereas Gibraltar isn't.