!
This post hasn't been updated in over a year. A lot can change in a year including my opinion and the amount of naughty words I use. There's a good chance that there's something in what's written below that someone will find objectionable. That's fine, if I tried to please everybody all of the time then I'd be a Lib Dem (remember them?) and I'm certainly not one of those. The point is, I'm not the kind of person to try and alter history in case I said something in the past that someone can use against me in the future but just remember that the person I was then isn't the person I am now nor the person I'll be in a year's time.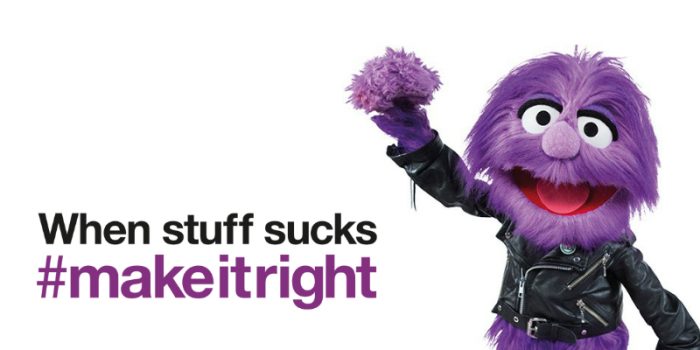 I've been a Three customer now for over five years, having switched from Orange when they couldn't be bothered to fix their abysmal network and repeatedly lied about the causes of their problems.
Over the past five years I've been a loyal and extremely satisfied customer. Not just a loyal customer, in fact, but an evangelist who has brought them lots of new business. Unlimited data, unlimited tethering, no extra charge for 4G and customer support people who don't try and blame every problem on your phone, no matter how nonsensical that may be. What's not to like?
Well, things have changed and not for the better. Unlimited tethering is a thing of the past and the One Plan that brought it has been withdrawn despite Three confirming on Twitter and by email that existing customers would keep it as long as they didn't upgrade or change their account. The current price plans that have replaced it are quite inferior by comparison and more expensive too.
Currently I have the sim only One Plan. It gives me 2,000 minutes, 5,000 texts, 5,000 minutes of 3 to 3 calls, unlimited data and unlimited tethering for £19 per month. I've happily been paying my £19 for a year and a half but now I've got to change my price plan, put up my bill and tie myself into another 12 month contract to get less than what I get now. Obviously I don't want to do this. The closest price plan to the one I have now is £27 per month – an increase of £8 per month, or £96 per year – and for that I can have unlimited data and calls and a relatively miserly 4GB of tethering.
Now, most months I can easily get by with 4GB of tethering but on occasion it's nowhere near enough. This month, for instance, we've spent a week on a caravan site in Wales with no Wi-Fi so everyone used my phone's Wi-Fi hotspot. I've used nearly 10GB of tethering already this month which would have added an extra £30 onto my bill at the standard charge of £5 per GB over the 4GB allowance. Like most kids nowadays, mine spend their lives on YouTube and online gaming and for my autistic son, not being able to get on the internet isn't just an inconvenience when he's bored, it's the end of the world.
I've made a couple of calls to Three to voice my disappointment and see what options I have but nobody's convinced me yet . I can get 8GB of tethering but only if I upgrade with a handset, putting my bills up even more and tying myself into a two year contract. I don't need a new phone – I've only had my Galaxy S5 for about 6 months – but I looked on the website anyway to see if there was anything worth having and I was shocked at the prices. To get a Galaxy S6 (the model that's replaced my S5) I'd have to pay £50 per month. To get the phone I currently have – last year's flagship model – would cost me £44 per month. This values the Samsung Galaxy S5 at £408 when you can buy the phone from Samsung directly for £329. These are just ridiculous prices and makes staying sim only the only cost effective option with a price hike of £8 per month for less than what I'm getting now. You can see why I'm not happy.
Three's price plans cost much the same as the other networks now and the only thing that really sets Three apart from the others is the unlimited data and customer services which, if you can demonstrate that you know what you're talking about, don't treat you like an idiot and are quite open with you about the issues you're having even if that means they admitting blame. Anyone who's tried convincing EE that a problem that's affecting lots of people in the same area that you don't need to factory reset your phone to fix it will appreciate what a big thing this is. That counts for a lot and it's that more than anything – more than the unlimited data which I absolutely make use of on a monthly basis – that makes me reluctant to move elsewhere.
I'm torn really on what to do. I can get 4G most places I go but not at home and nobody will tell me the RFS date for 4G on my home mast. That's irritating when it's available in the next street but HSDPA+ is fast so it's not a deal breaker just yet. I dislike EE because they have a no blame culture – as in, they are never to blame. O2 and Vodafone coverage round here is pretty poor and the least said about O2's network the better. There is nothing that makes me think that any other network will give me a service that is better than what I get from Three, or even one that is just as good, but I do feel like I've been let down by Three who are rewarding my loyalty (I have another three contracts and a payg with them – for my family of course, I'm not a drug dealer) with contempt. I appreciate that I'm only one customer and I only have five connections out of 8m+ subscriptions but I still feel that I should be treated better. I don't want the world, I just want the old Three back.