!
This post hasn't been updated in over a year. A lot can change in a year including my opinion and the amount of naughty words I use. There's a good chance that there's something in what's written below that someone will find objectionable. That's fine, if I tried to please everybody all of the time then I'd be a Lib Dem (remember them?) and I'm certainly not one of those. The point is, I'm not the kind of person to try and alter history in case I said something in the past that someone can use against me in the future but just remember that the person I was then isn't the person I am now nor the person I'll be in a year's time.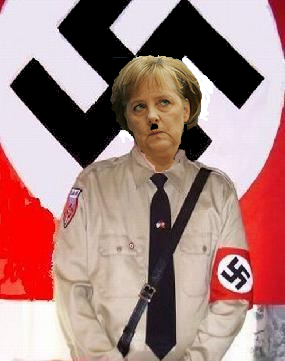 Traitor Blair has reneged on his promise to give us a referendum on the EU Constitution.
The lying, coniving, fuckwit scumbag traitor says that it's not a Constitution, it's an "amending treaty".  This is, of course, a complete and utter filthy lie.  The treaty that he will agree to next week is the EU Constitution that was rejected by the Dutch and French in a referendum and that he himself declared to be "dead" minus the three quarters of the treacherous treaty that's already been slipped in through the back door.
If Angela Merkel gets her way (and she usually does), the treaty will give the EU a "single legal personality", introduce majority voting on more policy areas including criminal law and foreign policy and create an EU Foreign Minister and full time EU President.  Merkel also describes the renaming and repackaging of the EU Constitution as a "major concession" and says that it will only happen as long as the "substance" of the original EU Constitution treaty is preserved.  Changing the name from Constitution to Treaty doesn't change what it is – especially when the "substance" of the treaty is the same.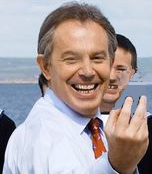 Blair and the Dutch and French governments have all said that the Treaty for the EU Constitution needs to be simplified so they can bypass the electorate and not hold referenda.
The Tories have called for a referendum on "the type of Europe we want to see", the Illiberal Dipshits are saying that "criminals and terrorists are free to bomb their way across Europe" because we haven't handed the country over to the EU and UKIP are demanding a referendum on pulling out of the EU altogether and returning back to what was agreed to in a referendum 50 years ago – a Common Market.
Merkel – the German Chancellor and EU Chief Propagandist – says that we have to have this treaty to make the enlarged EU function properly.  One observation and one solution love – we didn't want an enlarged EU in the first place and we can easily make the EU smaller and easier to manage for you by leaving it and spending our several billion pound euro-subsidy on ourselves.
Any further transfer of sovereignty to the EU is an act of treachery, plain and simple.  Power is loaned to government, it is not given and no government can bind its successors.  Bliar has no right to give away any more of our sovereignty to the EU – it isn't his to give away, it's ours.
I was promised a referendum and I expect it Blair.  Do you hear me you lying, cheating, traitor?