!
This post hasn't been updated in over a year. A lot can change in a year including my opinion and the amount of naughty words I use. There's a good chance that there's something in what's written below that someone will find objectionable. That's fine, if I tried to please everybody all of the time then I'd be a Lib Dem (remember them?) and I'm certainly not one of those. The point is, I'm not the kind of person to try and alter history in case I said something in the past that someone can use against me in the future but just remember that the person I was then isn't the person I am now nor the person I'll be in a year's time.
The English Democrats have been a largely benign force in English politics for a few years but recently they've become more aggressive in their self-promotion and in doing so have become toxic to the cause of English nationalism.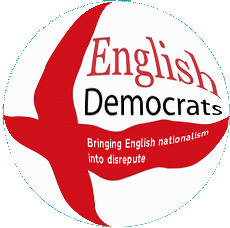 Anyone criticising the English Democrats, and particularly Steve Uncles, is generally treated to threats of legal action or worse.  One prominent English nationalist blogger says he has received threats against himself and his family for daring to criticise the party.  A mentally ill blogger who was opposed to an English Parliament and the English Democrats committed suicide seems to have amused Steve Uncles at the time.  PigDogFucker was impressed with Uncles' behaviour.
You see, Steve Uncles thinks that if you don't support the English Democrats you can't be an English nationalist, you are an enemy of the English nation.  I have, of course, committed what amounts to a capital crime in Steve's book – I joined UKIP, a party that not only doesn't believe in the same type of English Parliament that the English Democrats (and myself) believe in but has the audacity to keep defying his pronouncements that it is dead and will be beaten by the English Democrats.  I am quite prepared to accept people being anti-EU and not joining UKIP but the reverse, for Steve, isn't true – you can't be pro-English and not join the English Democrats.
I could have joined the English Democrats of course but I was never comfortable with them.  I was asked to join the EDP (as they called themselves a few years ago) several times, was asked to run a local branch in Telford (the branch chairman at the time was suffering from a long term illness) and was offered whatever support I needed as a PPC.  I was tempted for a time but thankfully went with my gut feeling.
England needs an English political party and it may as well be the English Democrats.  They are, at least, more acceptable than the England First Party – a BNP splinter group – which the English Democrats have an electoral pact with.  But if they are going to represent England they need to get rid of the members that bring not only their party but the whole English nationalist cause into disrepute.  Unfortunately, the ring leader happens to be one of their biggest creditors, having loaned the party somewhere in the region of £30k if memory serves me.
I must point out here that I don't tar all English Democrats members with the same brush.  Quite the opposite in fact.  The leader of the English Democrats, Robin Tilbrook, has always been friendly with me, even when I've been complaining about something they've done.  He's even given me some very useful advice in the past.  Ed Abrams is another prominent English Democrat who I've never had a problem with and think his vision of uniting left and right behind the cause of an English Parliament is an excellent one.  There are, naturally, many Campaign for an English Parliament members that are also members of the English Democrats and I have never had a problem with any of them, even when they're getting enthusiastic about why I shouldn't be a UKIP member.  There are some people who are in the English Democrats who are good friends.  But then I have friends who are also BNP members and even though I know they have joined the party in protest at the way the country is being run, they don't make the BNP a party I could support when elements of their leadership are rotten and some of their policies are equally so.
Rewinding slightly to the complaining about things the English Democrats (or rather, Steve Uncles) have done.  I used to be a member of quite a lot of English groups on Facebook until I checked one of them and found that it had sprouted English Democrats logos and was no longer the group I joined but a group for supporters of the English Democrats.  I have since found loads of groups that were once groups supporting St Georges Day public holidays or just English and proud groups but have been given the same English Democrats treatment.  I complained in the groups before I left them and got messages from Steve Uncles and Robin Tilbrook saying what they were doing – fraudulently implying that people were supporters of their party when they were just supporting England – was legitimate and that they would carry on doing it.  Steve Uncles said they intended to take over ever English group on Facebook.  Billy Bragg's office is now threatening to sue them for setting up a group fraudulently claiming that he is a supporter of their party.
Until recently, Steve frequented the British Democracy Forum, banging the drum for the English Democrats, attacking anyone who criticised them and posting the odd offensive joke.  He has now, for some reason, removed all the references to the English Democrats from his profile on the forum (even changing his username) and replaced them with the Campaign for an English Parliament logo, name and website.  Why he would seek to associate the CEP with his poor behaviour on a public forum I don't know but I suspect that having attracted widespread criticism from English nationalists and apparently facing deselection by his own branch, he has decided to go on a wrecking spree to try and do as much damage to the movement as possible before he goes.
England needs a Parliament and an English equivalent of the SNP but right now the English Democrats aren't the party to represent England and they're doing more harm than good.  They don't exactly have a very good reputation at the moment but they're a small fish in a big pond.  They've got one of their number elected as mayor of Doncaster which will get them some more publicity and that means that if they aren't going to set us back years they need to clean their act up.


Technorati Tags: English Democrats, Steve Uncles