The British government has unveiled the design of its ID card and shock horror, it doesn't have a British flag on it.  Instead, it will have four symbols to represent the four nations (the British government's words) of the UK.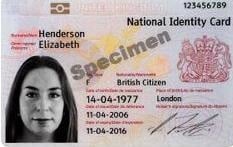 There was a suggestion that it would have the European Empire's ring of stars on it but no, it's not going ot have any flag on.  Apparently, it was thought that the butchers apron might upset the Irish.  Diddums.  The British Home Secretary, Alan Johnson, says that Northern Irish people will be able to have an ID card that says they're Irish instead of British.  That'll please the Scots and Welsh.  Will English people be able to get an ID card that says they're English?
Personally I don't care what they put on the ID card (although the recognition of England as a nation by this English-hating British government is welcome) because I won't be having one.  I won't be having one when they're voluntary and if the dishonest Tories stay true to form and don't abolish ID cards when they get into power, I won't be having one when they're compulsary.

Technorati Tags: ID Cards, Alan Johnson