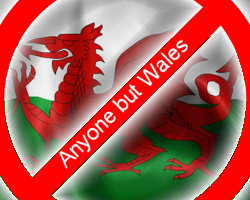 It's only 5 minutes until England's opening Six Nations match against Wales.
Not so long ago I'd have been looking forward to this game to see how much of a pasting we give the mutton munchers but just lately Wales have become a force to contend with and it'll be a challenging game.
Jonny Wilkinson is playing but Lawrence Dallaglio is out of the squad.
Jerusalem has been played, it's cold, it's damp and it's muddy.  What more could you ask for?  Apart from God Save the Queen not to be played as our national anthem again that is.
Bring it on boyo's!
Edit:
England are leading 16-6 at half time.  The crafty celts have played a decent first half but England have out-classed them.  The huge New Zealander that's now playing for us is very good – a beast of a man but fast.
Edit 2:
England's game has collapsed and the taffy's have taken the lead.  England are playing embarrasingly badly – bring back Dallaglio!
Edit 3:
Holy shit!  Wales haven't won at Twickenham for 20 years and England have thrown away a brilliant first half and comfortable lead.

Technorati Tags: England, Wales, Rugby, Six Nations